With Valentine's Day coming up, many guests will be thinking about booking a romantic break with their nearest and dearest.

Now is the perfect time for savvy holiday rental owners to make some creative tweaks to show potential guests they're the number one choice. Here are five tips to help you make the most of Valentine's Day.
1. Create an enticing special offer
Lots of holiday rentals will be offering deals, offers and packages for Valentine's Day. Your goal is to be different and offer something unique to encourage people to book with you. As February 14th falls on a Thursday this year, think about whether you can create a special (higher priced) 'Valentine's long weekend' package.
Include some enticing extras that you can upsell as part of your offer. There are lots of different things you could go for, including:
A bottle of wine, prosecco or champagne on arriva
Flowers and chocolates
Fruit platter
Valentine's themed welcome basket
Fluffy bathrobes, slippers and luxurious toiletries
Cheese, crackers and wine
Early check-in and late checkout
2. Think beyond couples
Don't limit your Valentine's offer to couples only. Buck the traditional 'couples only' trend by offering alternative packages so that your holiday rental appeals to a much wider audience. Here are some great ideas from the TravelNest team:
Create a bespoke 'Ultimate Girls' Night In' package which includes classic rom-com movies, face masks, popcorn, nibbles as well as wine or cocktails. If you have good WiFi, it's a good idea to set up temporary access to Netflix so guests can watch all the latest releases.
Entice families with younger children by including a babysitting service and reservations for a great local restaurant so they can go out for a well-earned dinner without the kids.
For active guests who like to go out exploring, you could include bike hire, complete with a picnic or lunch reservations at a local hostelry. As as creative extra touch, you could plan a route for guests to follow around your local area with key points of interest for them to check out.
3. Take good photos
Show potential guests what they can expect from your Valentine's offer by staging photos to highlight all the things that are included. Set up the rooms as you would plan to offer them to your guests, and take lots of photos showing all the extras they will receive, from champagne on arrival to flowers and chocolates and a candlelit table set for dinner.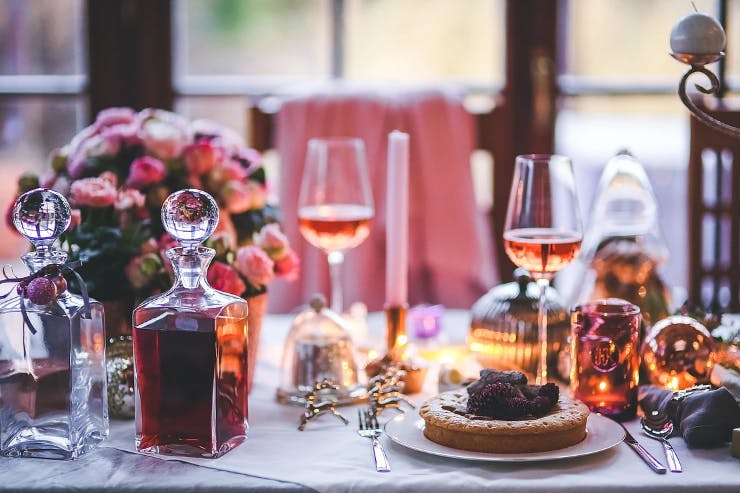 You can then start using these images to promote your offer. Share them via email, on your website and on social media channels such as Facebook and Instagram if you have them.
4. Team up with local suppliers
To make your Valentine's offer stand out, consider working with suppliers in your local area - restaurants, pubs, farm shops, cafes and visitor attractions. They can really help you go the extra mile and create a memorable experience for your guests. If you can create an experience they enjoy, and which exceeds their expectations, guests are far more likely to become repeat customers.
Perhaps you could organise reservations for a nearby restaurant as part of a 'Valentine's Date Night' package, or organise discounted entry or vouchers to use at local attractions such as castles or historic homes. If offering a 'Girls' Night In' package, consider working with a spa or beauty salon to offer in-room treatments such as manicures and pedicures. You could also ask local suppliers if they would consider running workshops or masterclasses at your properties e.g. wine tasting or cooking classes.
5. Spread the word
Once you've created your Valentine's offer, it's time to get the word out about it. The best way to do this is to create specific emails for different groups of customers. Break your customer database into the following groups, and develop tailored messages for each:
Those who have stayed with you on Valentine's day in the past
Loyal, repeat customers
Your highest paying 'top tier' guests
People who haven't stayed with you before but have previously made an enquiry
Find out more
TravelNest gets your property seen in all the right places. We can list your property on over 30 of the best booking channels including Airbnb, Booking. com, Expedia, HomeAway, TUI and TripAdvisor.