Every rental property needs a great hero photo.
It's the first photo people see on your listing so it's super important to choose the right one. Why? Because this photo alone can mean the difference between guests choosing your holiday rental property over another.
The TravelNest team recently conducted a survey to answer this question. In this blog, we share what we've found. The results provide useful insights for holiday property owners as they provide a clear indication of photo preferences and how they influence booking decisions. They'll help you review your existing photos, and determine whether it's time to update them.
Use photos that tap into people's emotions
Our survey received lots of positive feedback about how the different photos made people feel, and how they pictured themselves on holiday in those properties. Emotion marketing refers to marketing and advertising techniques that tap into emotions to capture an audience's attention. You can use this to your advantage - not just with your hero photo but also in your property description.
Ultimately, you are selling a happy lifestyle, so hero images and descriptions of your property that show off feel-good factors such as scenic views, sunsets and attractive living spaces are your best tools. Your aim is to evoke an emotional response which triggers the desire to book.
If your building looks great from the outside, show it off
If your property is a great looking building, with an exterior that really has the wow factor, make sure you show it off in your hero photo. Our survey showed that people were more inclined to book a property where the hero image is of a fantastic building taken from the outside. In this example, 79% of our survey respondents said they would book Property A, whilst 21% would go for Property B.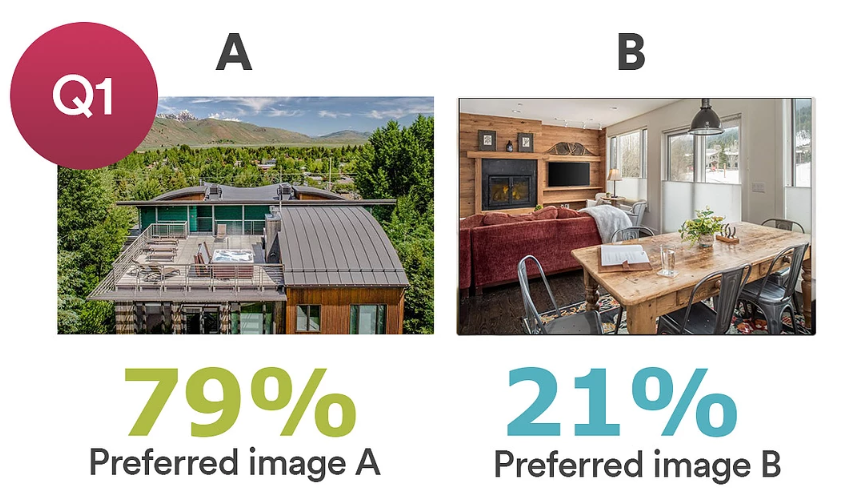 TravelNest Tip: If the exterior of your property doesn't stand out, don't use it as your hero photo. However, it is important to include some photos that show the outside of your property, but these should be placed further back in your photo gallery.
Prioritise the living room over the bedroom
For properties where the exterior doesn't have much of a wow factor, the next best image to choose as the hero photo is an enticing shot of the living space. Our survey results were clear about which room is more important for guests to see. As shown below, 79% of our survey respondents would book Property A which shows a hero image of an attractive living room. Only 21% would book Property B which uses a hero image of a bedroom.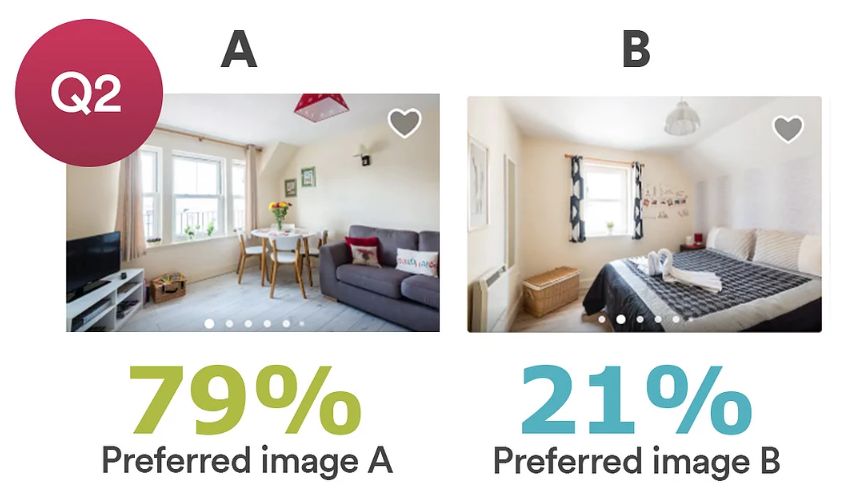 TravelNest Tip: Guests want to see the space where they'll be spending the bulk of their time in your property - the living space. Bedroom photos should ideally be placed after living room in your photo gallery.
Show windows and outside views
What people can see in your living room photo hero image is important, and has a marked impact on booking preference. We asked survey respondents to choose from the following photos of the same living room. 94% said they preferred the one which shows windows, outside views and natural light.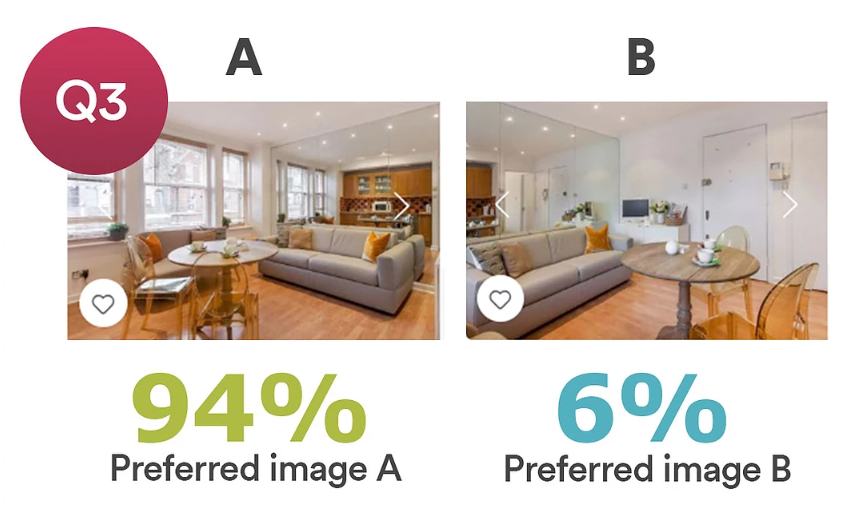 TravelNest Tip: It is important to show the living room off from different angles in your photo gallery. If you use a living room shot for your hero photo, use one that includes the windows, the view to the outside (if possible) and that has been taken in the daytime to make the best use of natural light.
Photos showing food staging are less important
There is a growing trend for staged property photos showing tables that are attractively laid out for a meal. These may be nice for platforms like Instagram or Facebook, but our survey shows that they are not as ideal as hero photos. Only 8% of our survey respondents would book Property B based on a hero photo that included food staging. 92% would go for Property A which shows off an attractive living space with windows showing what is outside, and lots of natural light.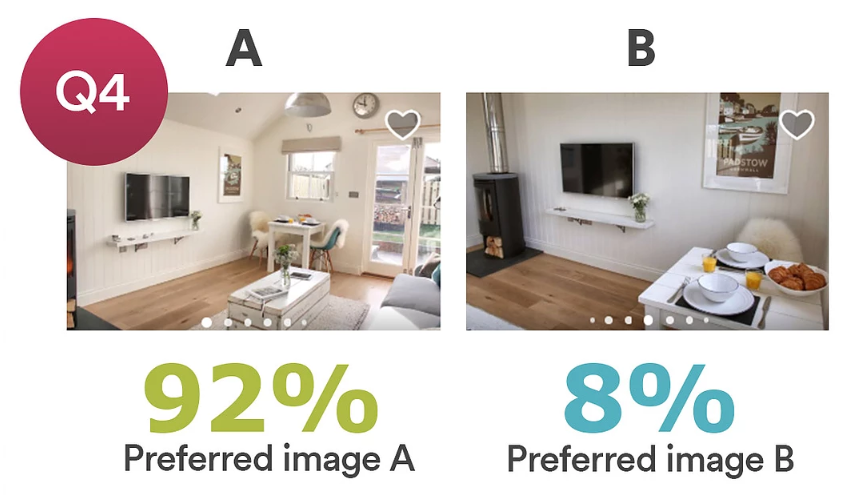 TravelNest Tip: Photos that include food staging are nice to include in your photo gallery, but should not be prioritised for inclusion in your hero photo at the expense of other, more important factors.
Find out more
TravelNest gets your property seen in all the right places. We can list your property on over 30 of the best booking channels including Airbnb, Booking. com, Expedia, HomeAway, TUI and TripAdvisor.