When guests are checking out your holiday home online, first impressions matter.
Here's our handy guide to perfecting your property photography. It's designed to help you convert a hover, to a click, to a booking for your property.
DIY or ask a professional?
You might not be up to David Bailey's photography standards but, with the spec of today's smartphones, it's easy for anyone to take good pictures. However, there's a difference between you taking a good shot and a professional taking a superb shot. Just take a look at the difference a professional photographer can make to your property photos: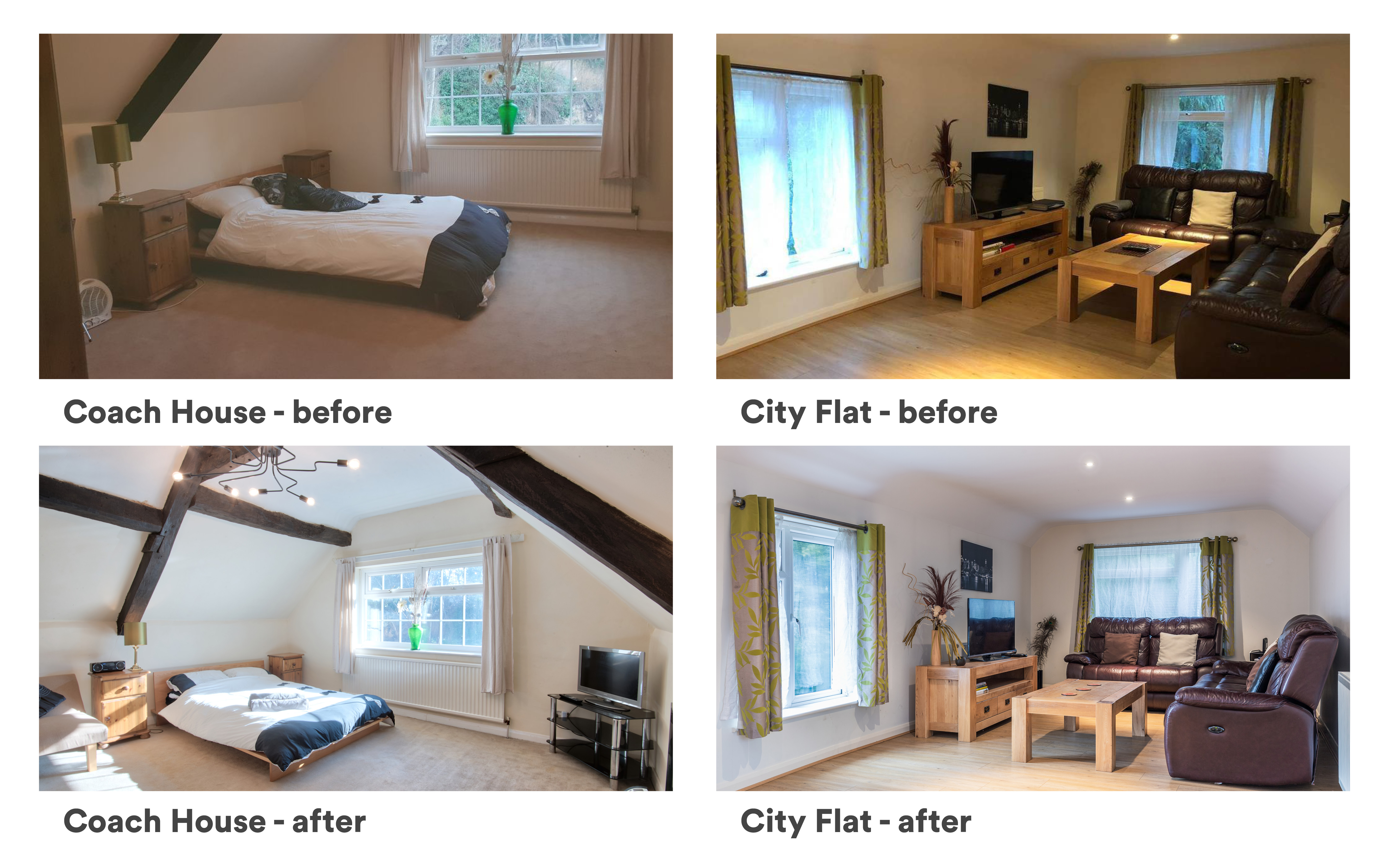 When it comes to finding a professional photographer, look for someone who has proven experience in shooting homes and interiors (a very different kettle of fish to baby portraits, for example.) You could also try out a budding amateur photographer who is keen to build on their portfolio and who will offer value for money in exchange for the experience. Just make sure there's a clause in the contract that covers you if you're not happy with the result!
TravelNest Tip: If you are looking for a professional photographer, we recommend using the Findr service to find, get quotes and book professional photographers in your area.
Find the perfect hero shot
This is about finding that one lead shot that's going to draw in your potential guests from the get-go. It's the first shot they will see, so needs to have that wow factor that inspires, but also creates an emotional connection.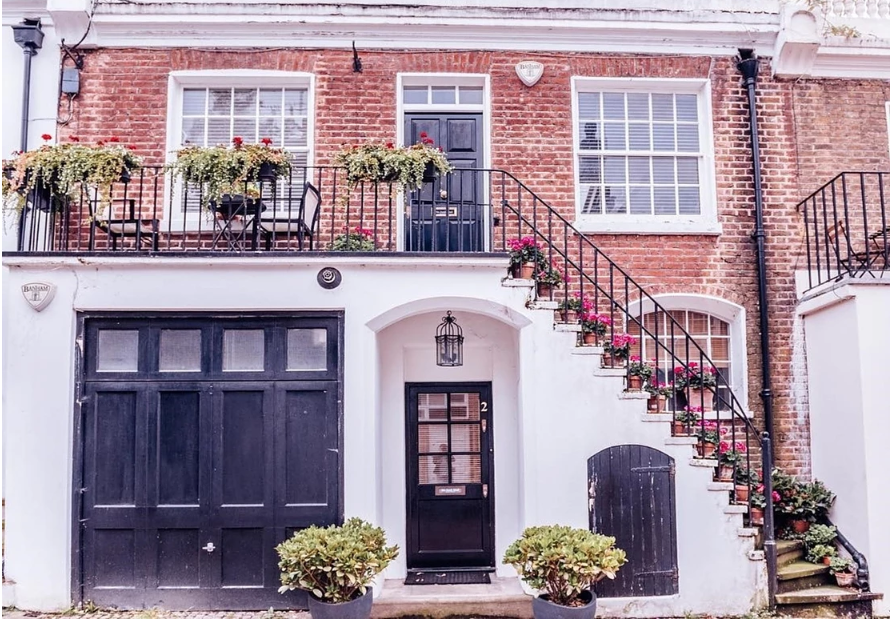 Our research found that 79% of people were more inclined to book properties with hero images of attractive external shots of the property. [2]
If your property has a stunning façade, use it as the main image on your listing. If not, don't worry. Anything that has a feel-good factor will help capture attention. If you have scenic views from the bedroom or lovely living areas, then that's your next best hero shot.
Shortlist the areas and rooms you'll be using
Once you've drawn in potential guests via the perfect hero shot, you need to keep their interest in your property. Create a list of the rooms and specific areas that you'll be shooting will keep things organised. Also, bear in mind the order they should appear in your online gallery.
TravelNest Tip: Prioritising the living room over the bedrooms is important. People want to see where they'll be spending the majority of their time, so putting bedrooms after living spaces in your online gallery is more enticing for guests.
Prepare for the shoot
It might sound obvious, but make sure the place is absolutely spotless when you come to take pictures. Clear away any clutter and make sure kitchen surfaces are gleaming, bins are emptied, windows are sparkling clean, bed sheets smoothed and toilet seats down.
Next, think about room staging. Flowers can give a room warmth. A good tip is to use colours to complement any textiles you already have in the room, such as curtains or cushions. Books stacked stylishly on a coffee table help to add personality and a bit of character. Depending on the weather on the day of the shoot (try and pick one that's not overly grey and dark), you may want to turn lights and lamps on. If you have a fire (gas, electric or a real log burner), put this on to add a cosy feel to the room.
In the kitchen, don't go to too much trouble staging food shots. Although these might be endlessly popular on platforms like Instagram, our research shows they are not highly regarded by potential guests. [3]. However, a neatly placed teapot and cups, to suggest a 'lived in' space can work. In the bathroom, fill up the tub. You could even put a bottle of champagne and glasses in shot too.
Getting the best angle
People want to get a true feeling for the rooms in your property, so try to get your angles right. This can be a bit tricky and is often what differentiates a great photo from a so-so one.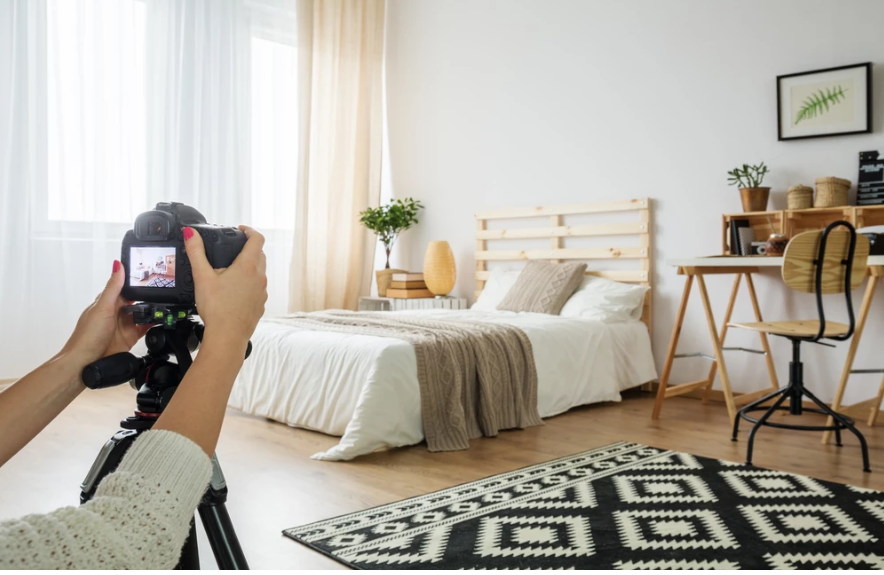 Here are our tried and tested tips to help you get the best from your spaces:
Stand in the corner of a room with your lens set to its widest setting.
Use a tripod if you have one.
Height always helps with room shots so try to take some photos standing on a chair in a corner of the room - be careful and use a sturdy chair!
Another good trick is to take photos through doorways – it tends to give you more space for a better angle.
If your rooms are on the small side, try and get the widest shot. Then go for accent shots to showcase different areas of the room – think cosy armchair and side table, or sofa and reading lamp.
Also, one common mistake to avoid is taking photos facing the sun – it will make your room look really dark. This is why you see a lot of room shots with closed blinds! If you can, always make sure the light is behind you.
Edit the shots, not the truth
Don't worry if your pictures don't look perfect straight from the camera. There are lots of photo editing apps available to help you tidy things up post-shoot. But don't go overboard. It becomes very obvious when editing has crossed the line! Unless you really know what you're doing it's best to stick to simple things, such as brightness and contrast and maybe a little cropping. For more the advanced editor a little sharpening here and saturation there can also work wonders.
Don't forget that people will choose to book your property based on your photos (and other aspects of your property listing which we'll cover in subsequent posts). Guest expectations and the reality of staying in your property have to match. Repeat business and recommendations depend on this. It only takes one person to post a negative review saying that your photos don't live up to the experience.

Find out more
TravelNest gets your property seen in all the right places. We can list your property on over 30 of the best booking channels including Airbnb, Booking. com, Expedia, HomeAway, TUI and TripAdvisor.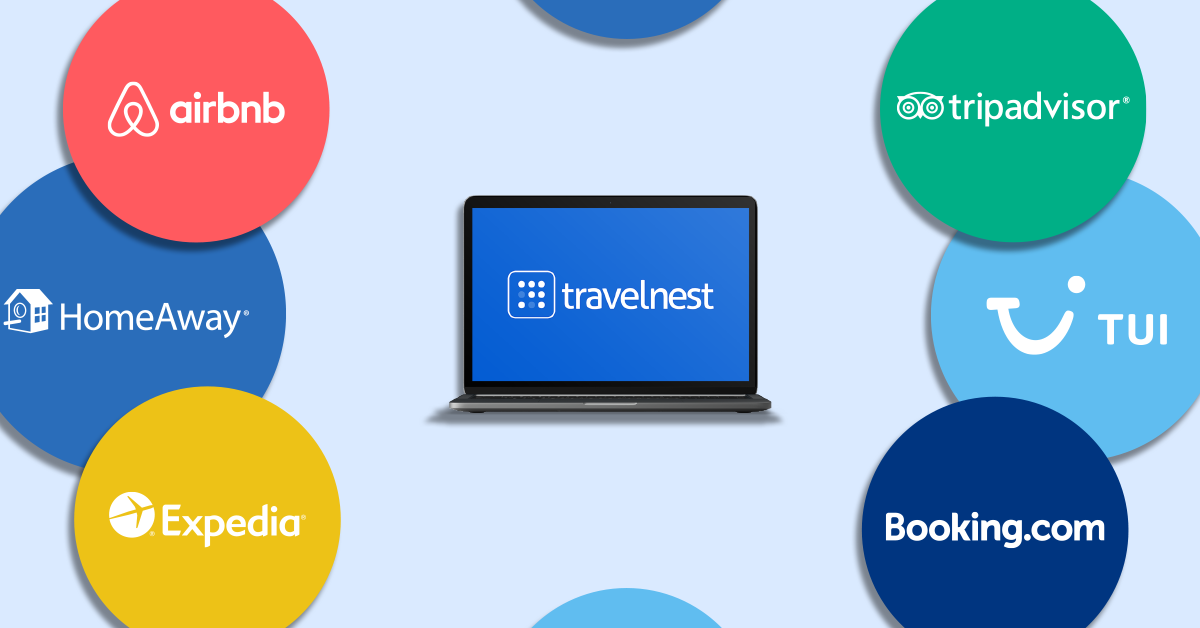 [1] Google AI, "The role of visual complexity and prototypicality regarding first impression of websites: Working towards understanding aesthetic judgments" Available at: https://ai.google/research/pubs/pub38315
[2] TravelNest blog, "The photos that will get guests booking your property" Available at:
[3] As above