January is one of the busiest months of the year for holiday bookings.
Now's the time for property owners to make some tweaks to their listings and take advantage of this busy period to boost bookings. Here are five tips from our team on the best ways to spruce up your listing for the New Year.

1. New year, new photos
Photos make a huge difference when customers are assessing your property against the competition.
People are 83% more likely to enquire about property listings that contain 20+ photos, so it's important to go for quality and quantity. [1]
Consider whether it's time to refresh your photos, and bear the following points in mind:
Best first: Make sure the first image people will see of your property is a great one. Use an image with the wow factor, which shows off the whole property in its surroundings. It sounds obvious, but don't put the toilet first! As you can see in our example below, the first image (along with the title) is critically important.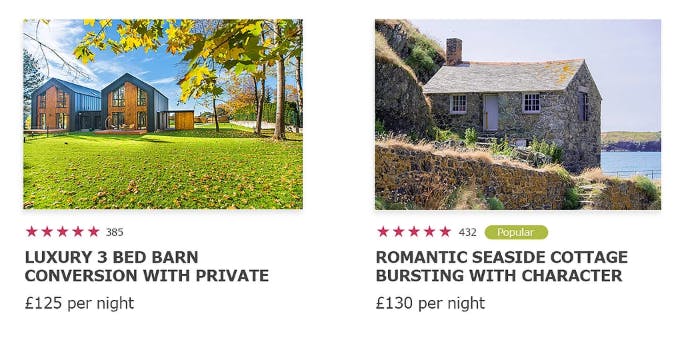 Go pro: If you can, use a professional photographer to take your photos. Try and get a recommendation if you can, and ask to see examples of their work before making a decision. If you need help finding a photographer, we can offer some suggestions, so please get in touch.
Set the stage: Whether you're using a professional photographer or going it alone, make sure the property looks spick and span for the photoshoot. Have a good declutter, and stage the photos to make each room look as inviting as possible.
2. Perfect your pricing
Potential customers want to know exactly how much a stay in your property will cost them. If they can't locate this information quickly and easily, they'll look elsewhere! Make sure all the costs are crystal clear, with no hidden extras lurking down in the small print. We recommend:
Keeping it simple: Divide your pricing into recognisable blocks e.g. high season, low season, Christmas/New Year, so customers get an 'at a glance' overview.
Showing short breaks: If you offer one, two and three night breaks, show total costs for these upfront so there's no ambiguity.
Getting ahead: People like to plan their holidays in advance, so show prices for the next 12 months, or longer, if you can.
3. Be super flexible with your calendar
Customers love flexibility when it comes to booking their holiday property. We've found that the top 20% most flexible properties get twice the number of nights booked than the 20% least flexible. So, it certainly pays to think about:
Check-in dates: Offering flexibility with check-in dates will open up your property to lots more potential customers.
Short stays: Being flexible with the minimum length of stay will have a noticeable impact on bookings than a fixed 'weekly only' booking availability.
Discounts and deals: Customers are like magpies - they are always on the lookout for exciting deals and great discounts, so why not attract them with a range of options? Consider discounts for advance booking, late availability, seasonal offers and loyalty discounts for repeat bookings to draw them in.
4. Have a way with words
No one likes to read long, dull property descriptions, so spend time improving the written aspects of your listing to really make it pop. It needs to be bang up-to-date, and highlight all the very best things about your property. Know your unique selling points (USPs) and highlight them. Be creative and descriptive with your copy, and try to keep things short, sweet and specific. Think about:
Amenity updates: If you've changed or added any amenities recently make sure these are included. Customers like to know what to expect, and will refer to your amenity list to determine which items to bring with them. You'll save them lots of hassle if you are specific about things like travel cots, games consoles, speakers and phone chargers etc.
Targeting key customers: Think about your ideal customer - is it young families, couples or groups you want to book with you? Adapt the description of your listing, and the title, to appeal to them. You could also go a step further and attract customers to your property by including information on upcoming events in your area. This has a really positive influence on booking persuasion and shows you are offering something that your competitors may not be.
Getting feedback: Why not ask a trusted friend for some honest feedback about your listing. Does it read well and encourage them to book? If not, why not?
5. Get social media savvy
Advertising your property via social media can really help take things to the next level in terms of raising visibility and boosting bookings. If you haven't done so already, think about setting up a Facebook page and an Instagram account for your holiday property. Remember to set these up as business pages (rather than personal pages).
Find out more
TravelNest gets your property seen in all the right places. We can list your property on over 30 of the best booking channels including Airbnb, Booking. com, Expedia, HomeAway, TUI and TripAdvisor.