Your property description is a key way to attract guests.
Follow our tips on creating a standout description for your online listing.
With 57% of British holidaymakers opting for a staycation break this year, demand for holiday properties continues to increase. [1] Good photos will grab their initial attention, but your description does the heavy lifting. It's where you can build trust, overcome potential objections and showcase all the things that make your property unique.
Who are you talking to?
First things first. Before you put pen to paper, it's important to have an understanding of exactly who it is you are trying to attract to your property. Who is your ideal guest? Working this out will determine how you go about writing your description and the things to hone in on.
Do you want to appeal to couples, solo travellers, families or groups of friends? Each of these will be looking for different things from a holiday rental property.
Bear in mind that the over 50s have the largest disposable income (£320 billion to be exact!) and hold 76% of the UK's wealth. [2]
For families, focus on things like child-friendly amenities and activities, and living areas that enable the family to be together.
For large groups of friends, focus on how the sleeping arrangements are set up and the adult activities nearby, such as pubs, restaurants and leisure activities.
For smaller groups or older couples, include information about how quiet or secluded your property is, and its proximity to local attractions and restaurants.
Check out the competition
Once you know who you're looking to target, take a look at similar properties in your local area. Look at how your competitors set out their listings, and which groups they are aiming for. As you read them, take note of what stands out. Look at the kinds of things they highlight and what you like and don't like about what they've written.
Reviews are also a good thing to look at, as they will show exactly what it is that people like (or dislike) about those properties. Finally, look at which properties seem to be the most popular in your areas - what you can learn from them?
Know what makes you unique
According to AirDNA, 82% of Airbnb listings now have at least a 4.5-star rating. [3]
So how can you differentiate? Understanding what makes your property unique and emphasizing this will help your property stand out in a fiercely competitive market. Decide what your unique selling point (USP) is. Why should guests want to book your property rather than someone else's? For example:
Do you have:
A beautiful view?
Super modern decor?
Country cottage coziness?
Is your property:
Secluded and romantic
Close to the beach
A minute from the best pub in town
According to Booking.com, 25% of travellers are keen to have local experiences - they want hosts with strong local knowledge about local places to eat and visit. [4]
Use this to your advantage. Can you as a host recommend:
The best places to eat and try food that's local to your area?
Where to go to see wildlife?
Whatever your USP, your description is where you get to show it off. A clear, differentiating USP can really tip the balance in your favour when it comes to getting that booking.
What to include
Whilst it is important to push your property's USP, there are also key details that every good listing should include. Remember, your description is where you get to answer guests' questions before they ask them, so try to be as helpful and comprehensive as possible. Try and keep your overall message tailored to appeal to your ideal guests. Here's a handy checklist of things to include:
About your property
Include a floor plan.
It can be hard to get an idea of exactly what your property is like from photos alone. That's why it is a great idea to include a floor plan that walks people through the layout and helps them better envisage the space.
Additionally, be specific about what each room provides - what kind of beds are there, how many chairs around the dining table, whether there are TVs in the bedrooms, is there a balcony, what sort of storage is there, etc. If you have an outside space, you'll also want to guide them through this as well.
Set out the sleeping arrangements.
This is crucial as people need to know the types and number of beds so they know there is enough space for everyone.
Describe the kitchen like and what it includes.
Whoever you're targeting, they need to know that if they're not going out to eat every night they can cook a decent meal at your place. Let people know what's in your kitchen - if it has a fridge, freezer, dishwasher, are they cooking on gas or electric and what utensils, pots, and pans you have.
Describe the bathrooms.
Bathrooms are important too, so let guests know how many bathrooms there are, whether they have a bath and a shower and also whether the property includes separate WCs/toilets.
Don't forget the basics.
Don't take the basics for granted. Let guests know if you provide things like towels, bedding and a hairdryer. In the kitchen, don't skimp on things like bin liners, tin foil, cling film, salt, pepper, and oil. These small details make a very big difference.
Special requirements.
Note any special requirements for your property. This might be things like noise limits or quiet hours. It is also important to set out who can stay in your property - is it suitable for elderly people and children, is it wheelchair accessible and do you allow pets? Also, include information about parking facilities - is there free on-street parking, metered parking or something else?
Unique extras.
Finally, is there anything you can include that might tip the balance in your favour? For example, do you have use of a gym that can be extended to guests, is there free, fast WiFi, is there Netflix or a games console for kids?
About your neighbourhood
Local attractions.
Make sure you let people know the main local attractions and how far they are from your property. It is also a good idea to note if you have any special connections with any local businesses where discounts apply e.g. taxi companies, babysitters and takeaways.
Local amenities.
Tell people how far your place is from the nearest train station and bus stop. Also, is there a local supermarket within walking distance, or local shops where guests can stock up on the essentials. Tell guests about local restaurants, cafes and pubs they can visit.
When you come to actually write this section up, keep your tone friendly and informative. Keep your target guest in mind and remember who you are writing for. Try to keep your description to 700-1000 words, and split it into easy to follow sections.
Getting your title just right
Although your title is a little thing, it is super important! Here are some additional tips to help you come up with a great title for your listing.
Write it last.
Pull out the best bits of your description to inspire your headline writing, and whatever you do don't rush it.
Make it work with your pictures.
Having a headline and pictures that work together will give you that extra punch!
Keep it tight.
Don't try and cram too much into your headline, as this will simply dilute the impact. Try to avoid getting carried away with filler words like "spectacular" and "magnificent", they are very overused and add little to your listing.
Sell your USP
Make sure you call out what makes your property unique in your headline. Sea views, large terrace, quiet location, city centre locations etc.
One last thing!
Check your work carefully before you publish it. Spelling errors and inaccurate information can put people off.
Find out more
TravelNest gets your property seen in all the right places. We can list your property on over 30 of the best booking channels including Airbnb, Booking. com, Expedia, HomeAway, TUI and TripAdvisor.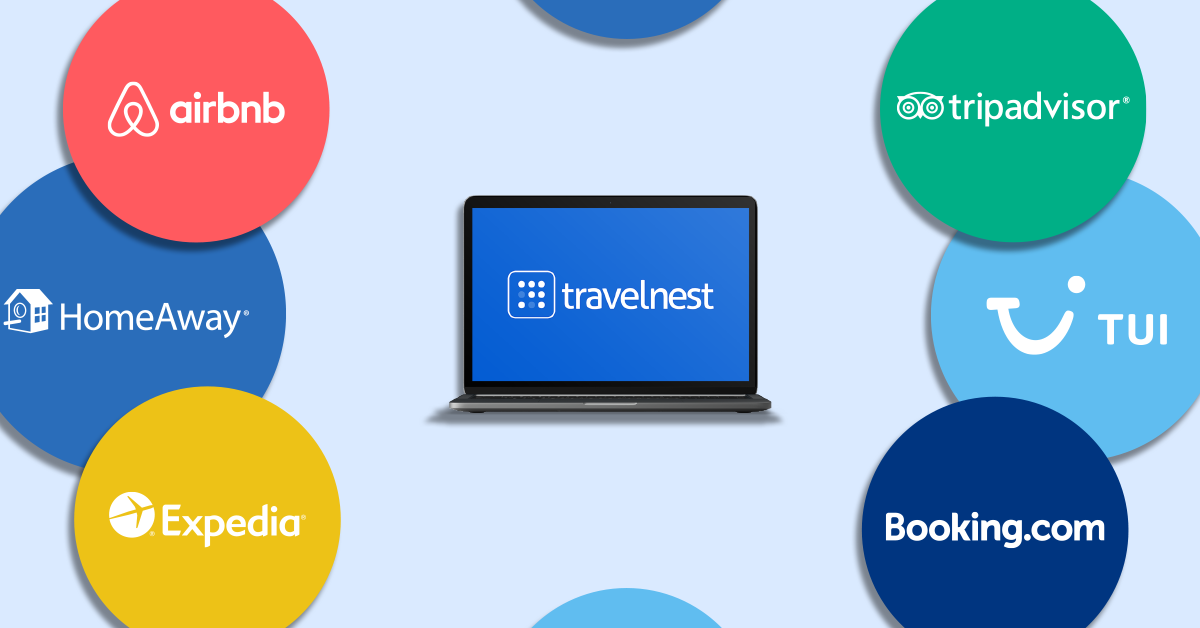 [1] https://www.travelodge.co.uk/press-centre/press-releases/We-are-Staycation-nation
[2] https://www.thisismoney.co.uk/money/news/article-2553921/Baby-boomers-helped-lift-Britain-recession-grey-pound-accounts-50-consumer-spending.html
[3] https://www.airdna.co/blog/booking-on-airbnb-search-beyond-stars
[4] https://news.booking.com/eight-travel-predictions-for-2018-as-revealed-by-bookingdotcom/